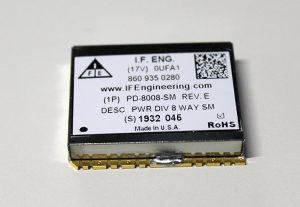 In addition to appropriately dividing and combining signals as specified, I.F. Engineering power dividers and combiners are leaders of performance and value. We invite our customers to discover what quality manufacturing services can do for them when they choose to partner with I.F. engineering.
Custom Power Dividers
Not only does I.F. Engineering manufacture a wide selection of standard power divider and combiner designs, we specialize in custom designs. If you have been searching for a manufacturer that can input amplifier bias lines, dedicate ports for amplifier bias, or even integrate DC blocks into power dividers and combiners, look no further! Our team is well-versed in every customizable aspect of our products.
Explore Our Selection of Power Dividers and Combiners:
50 Ohm – 2way
IFE Power Dividers / Combiners 50 Ohm – 2way
| Part Number | Frequency (MHZ) | INSERTION LOSS (DB) | ISOLATION (DB) | VSWR [IN / OUT] | INPUT POWER (W) | CONNECTOR TYPE | OUTLINES |
| --- | --- | --- | --- | --- | --- | --- | --- |
| PD-2001-S | .5-32 | 0.30 | 40 | 1.1:1 / 1.1:1 | 3 | SMA | 2-S-1 |
| PD-2001-S-100K | .1-32 | 0.30 | 40 | 1.1:1 / 1.1:1 | 3 | SMA | 2-S-1 |
| PD-2001-B | .5-32 | 0.30 | 40 | 1.1:1 / 1.1:1 | 3 | BNC | 2-B-1 |
| PD-2001-N | .5-32 | 0.30 | 40 | 1.1:1 / 1.1:1 | 3 | N | 2-N |
| PD-2001-SM | .5-32 | 0.30 | 33 | 1.2:1 / 1.2:1 | 1 | Surface Mount | 2-SM-1 |
| PD-2002-S | 2-100 | 0.40 | 35 | 1.3:1 / 1.3:1 | 3 | SMA | 2-S-2 |
| PD-2002-B | 2-100 | 0.35 | 35 | 1.3:1 / 1.3:1 | 3 | BNC | 2-B-1 |
| PD-2002-N | 2-100 | 0.35 | 35 | 1.3:1 / 1.3:1 | 3 | N | 2-N |
| PD-2002-SM | 2-100 | 0.35 | 35 | 1.2:1 / 1.2:1 | 1 | Surface Mount | 2-SM-1 |
| PD-2003-S | 10-500 | 0.65 | 30 | 1.3:1 / 1.3:1 | 3 | SMA | 2-S-2 |
| PD-2003-B | 10-500 | 0.65 | 30 | 1.3:1 / 1.3:1 | 3 | BNC | 2-B-1 |
| PD-2003-N | 10-500 | 0.75 | 30 | 1.3:1 / 1.3:1 | 3 | N | 2-N |
| PD-2003-SM | 10-500 | 0.65 | 30 | 1.3:1 / 1.3:1 | 1 | Surface Mount | 2-SM-1 |
| PD-2003-S-25W | 10-510 | 0.75 | 25 | 1.4:1 / 1.3:1 | 25 | SMA | 2-S-1 |
| PD-2004-S | 10-1000 | 0.75 | 25 | 1.3:1 / 1.3:1 | 3 | SMA | 2-S-2 |
| PD-2004-B | 20-1000 | 1.00 | 22 | 1.4:1 / 1.3:1 | 3 | BNC | 2-B-1 |
| PD-2004-N | 10-1000 | 0.75 | 25 | 1.2:1 / 1.2:1 | 3 | N | 2-N |
| PD-2004-SM | 10-1000 | 0.75 | 25 | 1.3:1 / 1.3:1 | 1 | Surface Mount | 2-SM-1 |
| PD-2007-S | 20-2000 | 1.50 | 18 | 1.4:1 / 1.3:1 | 1 | SMA | 2-S-2 |
| PD-2007-N | 20-2000 | 1.50 | 18 | 1.4:1 / 1.3:1 | 1 | N | 2-N |
| PD-2007-SM | 20-2000 | 2.00 | 18 | 1.5:1 / 1.5:1 | 1 | Surface Mount | 2-SM-2 |
| PD-2008-S | 20-3000 | 2.00 | 18 | 1.5:1 / 1.5:1 | 1 | SMA | 2-S-2 |
| PD-2008-N | 20-3000 | 2.00 | 18 | 1.5:1 / 1.5:1 | 1 | N | 2-N |
| PD-2008-SM | 20-3000 | 2.00 | 18 | 1.5:1 / 1.4:1 | 1 | Surface Mount | 2-SM-3 |
| PD-2-LB3-S | 950-2150 | 0.75 | 18 | 1.4:1 / 1.4:1 | 2 | SMA | 2-S-3 |
| PD-2-LB3-B | 950-2150 | 1.00 | 15 | 1.5:1 / 1.3:1 | 2 | BNC | 2-B-2 |
| PD-2-LB3-N | 950-2150 | 1.00 | 18 | 1.5:1 / 1.5:1 | 2 | N | 2-N |
| PD-2R-4200-S | 0.5-4200 | 6.0 +/- 1.0 | 6 | 1.5:1 / 1.5:1 | 0.1 | SMA | 2-S-4 |
50 Ohm – 3way
IFE Power Dividers / Combiners – 50 Ohm – 3way
| PART NUMBER | FREQUENCY (MHZ) | INSERTION LOSS (DB) | ISOLATION (DB) | VSWR [IN / OUT] | INPUT POWER (W) | CONNECTOR TYPE | OUTLINES |
| --- | --- | --- | --- | --- | --- | --- | --- |
| PD-3001-S | .5-32 | 0.5 | 35 | 1.3:1 / 1.3:1 | 3 | SMA | 3-S |
| PD-3001-SM | .5-32 | 0.5 | 35 | 1.3:1 / 1.3:1 | 1 | Surface Mount | 3-SM |
| PD-3002-S | 2-100 | 0.5 | 30 | 1.3:1 / 1.3:1 | 3 | SMA | 3-S |
| PD-3002-B | 2-100 | 0.75 | 30 | 1.3:1 / 1.3:1 | 3 | BNC | 3-B |
| PD-3-VHF-N | 5-200 | 1 | 25 | 1.3:1 / 1.3:1 | 3 | N | 3-N |
| PD-3003-S | 10-500 | 0.75 | 25 | 1.3:1 / 1.3:1 | 3 | SMA | 3-S |
| PD-3003-B | 10-500 | 0.75 | 22 | 1.3:1 / 1.3:1 | 3 | BNC | 3-B |
| PD-3003-N | 10-500 | 1 | 25 | 1.3:1 / 1.3:1 | 3 | N | 3-N |
| PD-3003-SM | 10-500 | 0.95 | 22 | 1.3:1 / 1.3:1 | 1 | Surface Mount | 3-SM |
| PD-3004-S | 20-1000 | 1.5 | 25 | 1.4:1 / 1.4:1 | 2 | SMA | 3-S |
| PD-3004-B | 20-1000 | 1.75 | 22 | 1.4:1 / 1.4:1 | 2 | BNC | 3-B |
| PD-3004-N | 20-1000 | 1.25 | 22 | 1.4:1 / 1.3:1 | 2 | N | 3-N |
| PD-3004-SM | 20-1000 | 1.75 | 20 | 1.4:1 / 1.4:1 | 1 | Surface Mount | 3-SM |
50 Ohm – 4way
IFE Power Dividers / Combiners – 50 Ohm – 4way
| PART NUMBER | FREQUENCY (MHZ) | INSERTION LOSS (DB) | ISOLATION (DB) | VSWR [IN / OUT] | INPUT POWER (W) | CONNECTOR TYPE | OUTLINES |
| --- | --- | --- | --- | --- | --- | --- | --- |
| PD-4001-S-100K | .1-32 | 0.3 | 40 | 1.2:1 / 1.2:1 | 3 | SMA | 4-S |
| PD-4001-S | .5-32 | 0.5 | 40 | 1.15:1 / 1.15:1 | 3 | SMA | 4-S |
| PD-4001-B | 1.0-32 | 0.5 | 40 | 1.2:1 / 1.2:1 | 3 | BNC | 4-B |
| PD-4001-SM | .5-32 | 0.75 | 33 | 1.37:1 / 1.2:1 | 1 | Surface Mount | 4-SM |
| PD-4002-S | 2-100 | 0.5 | 30 | 1.2:1 / 1.2:1 | 3 | SMA | 4-S |
| PD-4002-B | 2-100 | 0.5 | 30 | 1.2:1 / 1.2:1 | 3 | BNC | 4-B |
| PD-4002-SM | 2-100 | 0.5 | 30 | 1.25:1 / 1.25:1 | 1 | Surface Mount | 4-SM |
| PD-4003-S | 10-500 | 0.75 | 30 | 1.3:1 / 1.3:1 | 3 | SMA | 4-S |
| PD-4003-B | 10-500 | 1.2 | 25 | 1.3:1 / 1.3:1 | 3 | BNC | 4-B |
| PD-4003-N | 10-500 | 1.0 | 25 | 1.3:1 / 1.3:1 | 3 | N | 4-N |
| PD-4003-SM | 10-500 | 0.75 | 20 | 1.4:1 / 1.3:1 | 1 | Surface Mount | 4-SM |
| PD-4004-S | 20-1000 | 1.75 | 25 | 1.3:1 / 1.3:1 | 3 | SMA | 4-S |
| PD-4004-B | 20-1000 | 1.75 | 25 | 1.3:1 / 1.3:1 | 3 | BNC | 4-B |
| PD-4004-SM | 10-1000 | 1.5 | 25 | 1.4:1 / 1.3:1 | 1 | Surface Mount | 4-SM |
| PD-4004-FP | 20-1000 | 1.5 | 25 | 1.3:1 / 1.3:1 | 1 | Flat Pack | 4-FP |
| PD-4007-S | 20-2000 | 2 | 20 | 1.5:1 / 1.3:1 | 1 | SMA | 4-S |
| PD-4007-N | 20-2000 | 2 | 15 | 1.8:1 / 1.6:1 | 1 | N | 4-N |
| PD-4007-SM | 20-2000 | 2 | 22 | 1.5:1 / 1.3:1 | 1 | Surface Mount | 4-SM |
| PD-4008-S | 20-3000 | 2.25 | 15 | 1.5:1 / 1.3:1 | 1 | SMA | 4-S |
| PD-4008-SM | 20-3000 | 2.25 | 18 | 1.5:1 / 1.4:1 | 1 | Surface Mount | 4-SM |
| PD-4-LB3-S | 950-2150 | 1 | 18 | 1.5:1 / 1.3:1 | 1 | SMA | 4-S |
| PD-4-LB3-B-50 | 950-2150 | 2 | 15 | 1.75:1 / 1.5:1 | 1 | BNC | 4-B |
| PD-4-LB3-N-50 | 950-2150 | 2.5 | 15 | 1.5:1 / 1.5:1 | 1 | N | 4-N |
| PD-4-LB3-S-DS | 950-2150 | 2 | 15 | 1.5:1 / 1.5:1 | 1 | SMA | 4-S |
50 Ohm – 6way
IFE Power Dividers / Combiners – 50 Ohm – 6way
| PART NUMBER | FREQUENCY (MHZ) | INSERTION LOSS (DB) | ISOLATION (DB) | VSWR [IN / OUT] | INPUT POWER (W) | CONNECTOR TYPE | OUTLINES |
| --- | --- | --- | --- | --- | --- | --- | --- |
| PD-6001-S | .5-32 | 0.65 | 30 | 1.2:1 / 1.2:1 | 3 | SMA | 6-S |
| PD-6002-S | 2-100 | 0.75 | 30 | 1.3:1 / 1.3:1 | 2 | SMA | 6-S |
| PD-6003-S | 10-500 | 1.25 | 25 | 1.3:1 / 1.3:1 | 2 | SMA | 6-S |
| PD-6003-B | 10-500 | 1.5 | 25 | 1.4:1 / 1.3:1 | 2 | BNC | 6-B |
| PD-6003-N | 20-500 | 1.5 | 25 | 1.3:1 / 1.3:1 | 2 | N | 6-N |
| PD-6004-S | 20-1000 | 2.0 | 25 | 1.3:1 / 1.3:1 | 2 | SMA | 6-S |
| PD-6R-4200-S | DC-4200 | 15+/-2.0 | 6 | 1.4:1 / 1.4:1 | 0.1 | SMA | 6-S |
50 Ohm – 8way
IFE Power Dividers / Combiners – 50 Ohm – 8way
| PART NUMBER | FREQUENCY (MHZ) | INSERTION LOSS (DB) | ISOLATION (DB) | VSWR [IN / OUT] | INPUT POWER (W) | CONNECTOR TYPE | OUTLINES |
| --- | --- | --- | --- | --- | --- | --- | --- |
| PD-8001-S | .1-32 | 0.8 | 40 | 1.2:1 / 1.2:1 | 3 | SMA | 8-S |
| PD-8001-B | .5-32 | 0.5 | 40 | 1.2:1 / 1.2:1 | 3 | BNC | 8-B-1 |
| PD-8001-N | .5-32 | 0.8 | 40 | 1.2:1 / 1.2:1 | 3 | N | |
| PD-8001-SM | .5-32 | 1.0 | 33 | 1.3:1 / 1.3:1 | 1 | Surface Mount | 8-SM |
| PD-8002-S | 2-100 | 1.0 | 30 | 1.2:1 / 1.2:1 | 3 | SMA | 8-S |
| PD-8002-B | 2-100 | 1.0 | 30 | 1.2:1 / 1.2:1 | 3 | BNC | 8-B-1 |
| PD-8003-S | 10-500 | 2.0 | 30 | 1.4:1 / 1.3:1 | 3 | SMA | 8-S |
| PD-8003-B | 10-500 | 1.5 | 25 | 1.3:1 / 1.3:1 | 3 | BNC | 8-B-1 |
| PD-8003-N | 5-500 | 1.5 | 30 | 1.3:1 / 1.3:1 | 3 | N | 8-N |
| PD-8003-SM | 10-500 | 1.5 | 25 | 1.4:1 / 1.3:1 | 1 | Surface Mount | 8-SM |
| PD-8004-S | 20-1000 | 2.0 | 25 | 1.5:1 / 1.5:1 | 2 | SMA | 8-S |
| PD-8004-SM | 20-1000 | 2.0 | 23 | 1.5:1 / 1.5:1 | 1 | Surface Mount | 8-SM |
| PD-8007-S | 20-2000 | 3.25 | 18 | 1.6:1 / 1.4:1 | 1 | SMA | 8-S |
| PD-8007-N | 20-2000 | 3.5 | 18 | 1.75:1 / 1.75:1 | 1 | N | 8-N |
| PD-8007-SM | 20-2000 | 3.0 | 18 | 1.6:1 / 1.5:1 | 1 | Surface Mount | 8-SM |
| PD-8008-S | 20-3000 | 3.5 | 18 | 1.6:1 / 1.5:1 | 1 | SMA | 8-S |
| PD-8008-N | 30-3000 | 4.5 | 18 | 1.8:1 / 1.5:1 | 1 | N | 8-N |
| PD-8008-SM | 20-3000 | 4.0 | 15 | 1.8:1 / 1.6:1 | 1 | Surface Mount | 8-SM |
| PD-8-LB3-B-50 | 950-2150 | 2.0 | 15 | 1.75:1 / 1.5:1 | 1 | BNC | 8-B-2 |
| PD-8-LB3-N-50 | 950-2050 | 3.0 | 18 | 1.6:1 / 1.5:1 | 1 | N | 8-N |
| PD-8-LB3-S | 950-2150 | 2.0 | 15 | 2.0:1 / 1.75:1 | 1 | SMA | 8-S |
50 Ohm – 9way
IFE Power Dividers / Combiners – 50 Ohm – 9way
| PART NUMBER | FREQUENCY (MHZ) | INSERTION LOSS (DB) | ISOLATION (DB) | VSWR [IN / OUT] | INPUT POWER (W) | CONNECTOR TYPE | OUTLINES |
| --- | --- | --- | --- | --- | --- | --- | --- |
| PD-9003-S | 5-500 | 1.25 | 25 | 1.5:1 / 1.3:1 | 3 | SMA | 9-S |
| PD-9004-S | 20-1000 | 2.5 | 22 | 1.6:1 / 1.3:1 | 2 | SMA | 9-S |
50 Ohm – 12way
IFE Power Dividers / Combiners – 50 Ohm – 12way
| part number | frequency (mhz) | insertion loss (db) | isolation (db) | vswr [in / out] | input power (w) | connector type | outlines |
| --- | --- | --- | --- | --- | --- | --- | --- |
| PD-12001-S-100K | .1-32 | 1.25 | 30 | 1.4:1 / 1.3:1 | 2 | SMA | 12-S |
| PD-12001-B | .5-32 | 1 | 40 | 1.3:1 / 1.3:1 | 2 | BNC | 12-B |
| PD-12001-SM | 2.0-32 | 1 | 30 | 1.2:1 / 1.2:1 | 1 | Surface Mount | 12-SM |
| PD-12002-S | 2-100 | 1.25 | 30 | 1.3:1 / 1.3:1 | 2 | SMA | 12-S |
| PD-12002-B | 2-100 | 1.2 | 30 | 1.3:1 / 1.3:1 | 2 | BNC | 12-B |
| PD-12002-B-ENV | 2-100 | 1.1 | 30 | 1.3:1 / 1.3:1 | 2 | BNC | 12-B |
| PD-12-036-SM | 20-200 | 1.5 | 25 | 1.4:1 / 1.4:1 | 1 | Surface Mount | 12-SM |
| PD-12003-S | 10-500 | 1.5 | 25 | 1.3:1 / 1.3:1 | 2 | SMA | 12-S |
| PD-12003-S-5W | 10-500 | 1.5 | 25 | 1.3:1 / 1.3:1 | 5 | SMA | 12-S |
| PD-12003-P | 10-500 | 1.6 | 20 | 1.4:1 / 1.4:1 | 1 | Thru Hole | 12-P |
| PD-12004-S | 50-1000 | 2.6 | 20 | 1.5;1 / 1.4:1 | 2 | SMA | 12-S |
| PD-12004-SM | 20-1000 | 2.25 | 18 | 1.6:1 / 1.6:1 | 1 | Surface Mount | 12-SM |
| PD-12005-S | 25-1200 | 2.5 | 20 | 1.8:1 / 1.3:1 | 2 | SMA | 12-S |
50 Ohm – 16way
IFE Power Dividers / Combiners – 50 Ohm – 16way
| part number | frequency (mhz) | insertion loss (db) | isolation (db) | vswr [in / out] | input power (W) | connector type | outlines |
| --- | --- | --- | --- | --- | --- | --- | --- |
| PD-16001-S-100K | .1-32 | 0.75 | 35 | 1.3:1 / 1.3:1 | 2 | SMA | 16-S |
| PD-16001-B | .5-32 | 0.75 | 40 | 1.2:1 / 1.2:1 | 2 | BNC | 16-B |
| PD-16001-B-40M | 1.0-40 | 1.75 | 33 | 1.3:1 / 1.3:1 | 2 | BNC | 16-B |
| PD-16002-S | 2-100 | 1.5 | 30 | 1.3:1 / 1.3:1 | 2 | SMA | 16-S |
| PD-16003-S-5W | 20-500 | 2.5 | 33 | 1.5:1 / 1.5:1 | 5 | SMA | 16-S |
| PD-16004-S | 20-1000 | 2.5 | 20 | 1.5:1 / 1.5:1 | 2 | SMA | 16-S |
| PD-16004-SM | 20-1000 | 2.5 | 25 | 1.5:1 / 1.5:1 | 2 | Surface Mount | 16-SM |
| PD-16008-SM | 20-3000 | 4.5 | 16 | 1.8:1 / 1.8:1 | 1 | Surface Mount | 16-SM |
| PD-16008-S | 30-3000 | 4.5 | 18 | 1.8:1 / 1.8:1 | 1 | SMA | 16-S |
| PD-16-LB3-S | 950-2150 | 2.25 | 18 | 1.7:1 / 1.4:1 | 1 | SMA | 16-S |
| PD-16-LB3-SMB | 950-2150 | 2.8 | 15 | 1.7:1 / 1.4:1 | 1 | SMB (MALE) | 16-SMB |
50 Ohm – 32way
IFE Power Dividers / Combiners – 50 Ohm – 32way
| PART NUMBER | FREQUENCY (MHZ) | INSERTION LOSS (DB) | ISOLATION (DB) | VSWR [IN / OUT] | INPUT POWER (W) | CONNECTOR TYPE | OUTLINES |
| --- | --- | --- | --- | --- | --- | --- | --- |
| PD-32001-S | .5-32 | 1 | 40 | 1.2:1 / 1.2:1 | 2 | SMA | 32-S |
| PD-32-LB3-S | 950-2150 | 3.6 | 15 | 1.7:1 / 1.4:1 | 2 | SMA | |
| PD-32-CB1-S-OSP | 3400-4300 | 4 | 16.5 | 1.5:1 / 1.5:1 | 2 | SMA/OSP | 32-S-OSP |
75 Ohm – 2way
IFE Power Dividers / Combiners – 75 Ohm – 2way
| PART NUMBER | FREQUENCY (MHZ) | INSERTION LOSS (DB) | ISOLATION (DB) | VSWR [IN / OUT] | INPUT POWER (W) | CONNECTOR TYPE | OUTLINES |
| --- | --- | --- | --- | --- | --- | --- | --- |
| PD-2-VHF-B-75 | 20-200 | 0.5 | 25 | 1.3:1 / 1.3:1 | 2 | BNC | |
| PD-2003-B-75 | 10-500 | 0.65 | 25 | 1.3:1 / 1.3:1 | 2 | BNC | |
| PD-2004-B-75 | 20-1000 | 0.85 | 22 | 1.4:1 / 1.4:1 | 2 | BNC | |
| PD-2007-B-75 | 10-2000 | 2.5 | 15 | 1.5:1 / 1.5:1 | 2 | BNC | |
| PD-2-LB3-B-75 | 950-2150 | 1 | 15 | 1.75:1 / 1.5:1 | 2 | BNC | |
| PD-2-LB3-F | 950-2150 | 0.75 | 18 | 1.5:1 / 1.3:1 | 2 | Type F | PD-2-F |
| PD-2-LB3-F-DC (DC Pass one port) | 950-2150 | 1 | 18 | 1.5:1 / 1.3:1 | 2 | Type F | |
75 Ohm – 3way
IFE Power Dividers / Combiners – 75 Ohm – 3way
| PART NUMBER | FREQUENCY (MHZ) | INSERTION LOSS (dB) | ISOLATION (DB) | VSWR [IN / OUT] | INPUT POWER (W) | CONNECTOR TYPE |
| --- | --- | --- | --- | --- | --- | --- |
| PD-3003-B-75 | 5-500 | 1.0 | 22 | 1.5:1 / 1.5:1 | 2 | BNC |
75 Ohm – 4way
IFE Power Dividers / Combiners – 75 Ohm – 4way
| PART NUMBER | FREQUENCY (MHZ) | INSERTION LOSS (DB) | ISOLATION (DB) | VSWR [IN / OUT] | INPUT POWER (W) | CONNECTOR TYPE |
| --- | --- | --- | --- | --- | --- | --- |
| PD-4-VHF-B-75 | 20-200 | 1.0 | 25 | 1.3:1 / 1.3:1 | 2 | BNC |
| PD-4003-B-75 | 10-500 | 1.3 | 25 | 1.5:1 / 1.5:1 | 2 | BNC |
| PD-4004-B-75 | 20-1000 | 1.5 | 24 | 1.5:1 / 1.4:1 | 2 | BNC |
| PD-4-LB2-F | 950-1750 | 1.0 | 18 | 1.5:1 / 1.5:1 | 2 | Type F |
| PD-4-LB3-B-75 | 950-2150 | 2.0 | 15 | 1.75:1 / 1.5:1 | 2 | BNC |
| PD-4-LB3-F | 950-2150 | 2.0 | 15 | 1.75:1 / 1.5:1 | 2 | Type F |
75 Ohm – 6way
IFE Power Dividers / Combiners – 75 Ohm – 6way
| PART NUMBER | FREQUENCY (MHZ) | INSERTION LOSS (DB) | ISOLATION (DB) | VSWR [IN / OUT] | INPUT POWER (W) | CONNECTOR TYPE |
| --- | --- | --- | --- | --- | --- | --- |
| PD-6003-B-75 | 5-500 | 1.5 | 22 | 1.5:1 / 1.5:1 | 2 | BNC |
75 Ohm – 8way
IFE Power Dividers / Combiners – 75 Ohm – 8way
| PART NUMBER | FREQUENCY (MHZ) | INSERTION LOSS (DB) | ISOLATION (DB) | VSWR [IN / OUT] | INPUT POWER (W) | CONNECTOR TYPE |
| --- | --- | --- | --- | --- | --- | --- |
| PD-8002-B-75 | 2-100 | 1.0 | 30 | 1.2:1 / 1.2:1 | 2 | BNC |
| PD-8-VHF-B-75 | 50-180 | 1.0 | 25 | 1.3:1 / 1.3:1 | 2 | BNC |
| PD-8003-B-75 | 10-500 | 1.25 | 25 | 1.3:1 / 1.3:1 | 2 | BNC |
| PD-8-LB3-B | 950-2150 | 2.0 | 15 | 2.0:1 / 1.75:1 | 2 | BNC |
| PD-8-LB3-F | 950-2150 | 2.0 | 15 | 2.0:1 / 1.75:1 | 2 | Type F |
75 Ohm – 16way
IFE Power Dividers / Combiners – 75 Ohm – 16way
| PART NUMBER | FREQUENCY (MHZ) | INSERTION LOSS (DB) | ISOLATION (DB) | VSWR [IN / OUT] | INPUT POWER (W) | CONNECTOR TYPE |
| --- | --- | --- | --- | --- | --- | --- |
| PD-16-LB3-B-75 | 950-2150 | 3 | 18 | 1.8:1 / 1.5:1 | 2 | BNC |
| PD-16-LB3-F | 950-2150 | 3.5 | 18 | 1.8:1 / 1.5:1 | 2 | Type F |
CrossPoint Technologies Products
I.F. Engineering Products