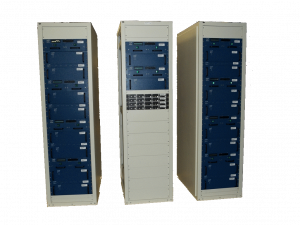 Rack units come in different sizes which are suitable for different kinds of equipment and uses, with the most common standard size being 19". A rack unit (abbreviated as U, less commonly seen as RU) is a unit of measurement applied to equipment racks and the servers, disk drives and other devices that they contain. One U is 1.75 inches (44.45mm); the standard rack, at 19 inches, is 42U.
The 1U, 2U, 3U, 4U, 5U, 6U and 7U are all different sized rackmount servers, and the U following the number is short for unit. The number indicates the size of the rackmount, 1U being the smallest rackmount and 7U being the biggest rackmount.However, in many cases racks are customizable. These racks are designed to fit the specific shape and measurements of the equipment they store, while still allowing for wire connections and airflow.
The category of rack units covers a number of products. It includes open or partly open framed cabinets into which mountable servers can be inserted. On the other hand, racks can also be highly secure enclosed cases suitable for transporting advanced, technological equipment in remote or challenging environments.
At I.F. Engineering, we not only develop products that are used in rack-based systems; we develop, manufacture and integrate rack-based units. Whether it's integrating other peoples' equipment or designing and developing systems, we have experience with both. In the past we have worked with several government primes on large programs that included installations.
Crosspoint Technologies is proud to know that our equipment is used at many major DOD earth stations and forts throughout the United States.
Our motto, "Your challenge is our progress," reflects a value that I.F. Engineering brings into every project we complete. As a company, we have always prided ourselves as a custom design house, which has enabled us to fulfill the integration requirements of countless projects. Our integrated rack based systems, in particular, have become a staple product within our business. At I.F. Engineering, our integrated rack systems are designed to meet complex integration needs and can be fully assembled and tested on-site or in our factory. Explore the advantages of working with I.F. Engineering for all of your integrated rack based systems.
CrossPoint Technologies Products
I.F. Engineering Products