I.F. Engineering Corp was founded in 1994 by Lee & Lois Foshay and began as a microwave and RF Components consulting firm. The Foshays ran the company out of a small duplex next door to their home on Nichols College Hill in Dudley, MA. During that time, they both managed to maintain full-time jobs while they devoted all of their personal time to growing their business.
In the following years, I.F. Engineering Corp continued to grow, forcing them to leave the duplex. In 2003, they moved into a 7,500 square foot building in Fabyan, CT where the company achieved ISO-9001 Certification in 2008. Impressively, I.F. Engineering has continued to thrive as a business for over 25 years, having never been bought out by another company. This long-standing history, which is fairly rare in our industry, establishes that reliability and consistency have always been the core characteristics driving I.F. Engineering forward.
I.F. Engineering Continues to Expand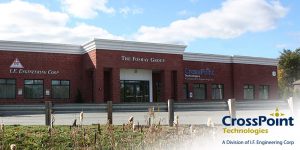 In 2012, I.F. Engineering Corp was able to build their own customized facility consisting of 20,000 square feet to meet the needs of their growing customer base. Now located in the new building on Foshay Road in Dudley, MA, I.F. Engineering is a leading designer and manufacturer of components and sub-systems. They extend from 100 KHz through 7 GHz, with an emphasis on L-Band Distribution systems. I.F. Engineering Corp, along with its dedicated employees, has made significant strides in becoming a major supplier in the RF industry.
I.F. Engineering Gains a Reputation for Excellence in Our Industry
As I.F. Engineering expanded, the company began to make a name for itself in the industry. Landing a large job with General Dynamics in 2014, I.F. Engineering was entrusted to input new matrix switch banks in every major US DOD teleports around the world. While this was only one instance of the many high-profile engineering jobs our company has worked on, I.F. Engineering is proud to serve the needs of large and small customers alike.
I.F. Engineering has gained a reputation for excellence over the years, earning the repeat business of countless customers. In December of 2017, I.F. Engineering Corp acquired the assets of American Sub-Assembly Producers (ASAP) located in Dudley, MA. The capabilities of ASAP were complementary to those of I.F. Engineering Corp, making it a synergistic acquisition. Their equipment was moved into the I.F. Engineering Corp facility in Dudley, MA prior to December 31, 2017, and numbers of their staff members became I.F. Engineering Corp employees. I.F. Engineering Corp and ASAP had a long-standing relationship where ASAP was a vendor to I.F. Engineering Corp acting as a Contract Manufacturer for products, including printed circuit board fabrication, toroid winding, and chassis fabrication.
I.F. Engineering: Investing in the Future
Every year we invest in our people, manufacturing capacity, quality control, and test facilities to add value to the products we manufacture. Recent investments have enabled us to increase our production capability substantially and facilitate our evolving production needs. For example, in 2019, I.F. Engineering worked on a major contract to provide a customer with tropo-scatter modem case assemblies. As a company that is quality oriented and values fast reaction to customer requests, I.F. Engineering is committed to continually innovate and keep pace with our customers' evolving industries.