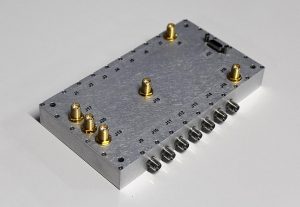 I.F. Engineering is more than a component manufacturer. When more compact solutions are required, sometimes an integrated solution is the last, and only answer. I.F. Engineering can take your idea and combine our existing product designs into one custom integrated RF module. This can save a surprising amount of space and eliminate integration issues and worries, related to uncertainties when combining many components.
Once again, with our extensive catalog of components, we can also build sub-systems solutions for the unique challenges facing our customers. In addition to addressing the needs of our customers, our sub-system solutions have also been implemented into various Crosspoint switches as a result of our connection with the product line.
Multiple Functions Integrated into a Single Package Solution:
Power Division/Combining
Amplification
Signal Monitoring
Signal Injection
Beam Forming
Power Injection
Sub-Systems for the Aerospace Industry
I.F. Engineering works closely with many of the biggest names in the aerospace industry. As it concerns sub-system solutions, I.F. Engineering manufactures a number of projects for aerospace terminals. By prioritizing precision in everything we do, I.F. Engineering keeps the aerospace industry running smoothly.
CrossPoint Technologies Products
I.F. Engineering Products