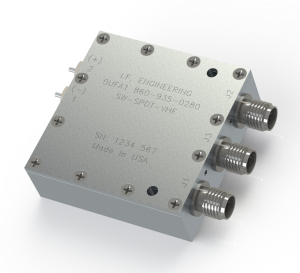 I.F. Engineering Corp's latest Solid-State switch design features greater than 95 dB Isolation at 70 MHz and operates over a frequency range of 20 to 1000 MHz. It is designed for both commercial and military applications and has a high reliability option.
Its compact design of 1.04 cubic inches (excluding connectors and solder terminals) is small in size compared to other available products.
We offer standard configurations but our specialty is providing uniquely engineered products that will meet your specific needs.
Created by a team of RF engineers, I.F. Engineering Corp has been leading the field for years—find out more about how we became leaders in the industry.