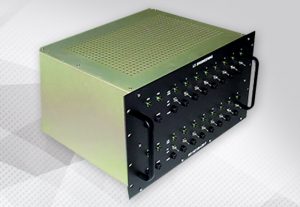 I.F. Engineering's multicouplers will distribute signals of specified operating frequency using amplifier gain to overcome inherent effects of power division. Multicouplers are adaptable to specific application needs. For example, IFE can design these products to include multiple channels, individual attenuation controls, various levels of input and output power, and more!
Customizable Multicouplers
Our design team understands that not every multicoupler is intended for use inside a controlled environment. As a result, IFE multicouplers can be deployed across a wide variety of industries, including the communications sector, the military and defense industry, and many others.
Distribution Amplifiers
While IF Engineering does not itself manufacture distribution amplifiers as stand-alone products, our team understands the importance of these products in relation to multicouplers. As an integral component to multicouplers, IFE sources the best components to suit our customers' needs. If you have questions regarding our multicoupler products, we invite you to learn more about these products on our website or by contacting our team.
L-Band Multicoupler
IFE Multicouplers / Distribution Amplifiers – L-Band
| Part Number | Frequency | Gain | Port to Port Isolation | Input VSWR | Output VSWR | Input Ports – Output Ports Per Input | Impedance |
| --- | --- | --- | --- | --- | --- | --- | --- |
| MC-16-LB3-75 | 950 – 2150 MHz | 0 +/- 2.0 dB | 18 dB typ | 2.0:1 | 1.8:1 Max | 1-16 | 75 ohm |
| MC-32-LB3-75 | 950 – 2150 MHz | 0 +/- 2.0 dB | 18 dB typ | 2.0:1 | 1.8:1 Max | 1-32 | 75 ohm |
| MC-2X16-LB3-75 | 950 – 2150 MHz | 0 +/- 2.0 dB | 18 dB typ | 2.0:1 | 1.8:1 Max | 2-8 | 75 ohm |
| MC-2X32-LB3-75 | 950 – 2150 MHz | 0 +/- 2.0 dB | 18 dB typ | 2.0:1 | 1.8:1 Max | 2-16 | 75 ohm |
| MC-4X32-LB3-75 | 950 – 2150 MHz | 0 +/- 2.0 dB | 18 dB typ | 2.0:1 | 1.8:1 Max | 4-8 | 75 ohm |
| MC-8X32-LB3-75 | 950 – 2150 MHz | 0 +/- 2.0 dB | 18 dB typ | 2.0:1 | 1.8:1 Max | 8-4 | 75 ohm |
| MC-16-LB3-50 | 950 – 2150 MHz | 0 +/- 2.0 dB | 18 dB typ | 2.0:1 | 1.8:1 Max | 1-16 | 50 ohm |
| MC-32-LB3-50 | 950 – 2150 MHz | 0 +/- 2.0 dB | 18 dB typ | 2.0:1 | 1.8:1 Max | 1-32 | 50 ohm |
| MC-2X16-LB3-50 | 950 – 2150 MHz | 0 +/- 2.0 dB | 18 dB typ | 2.0:1 | 1.8:1 Max | 2-8 | 50 ohm |
| MC-2X32-LB3-50 | 950 – 2150 MHz | 0 +/- 2.0 dB | 18 dB typ | 2.0:1 | 1.8:1 Max | 2-16 | 50 ohm |
| MC-4X32-LB3-50 | 950 – 2150 MHz | 0 +/- 2.0 dB | 18 dB typ | 2.0:1 | 1.8:1 Max | 4-8 | 50 ohm |
| MC-8X32-LB3-50 | 950 – 2150 MHz | 0 +/- 2.0 dB | 18 dB typ | 2.0:1 | 1.8:1 Max | 8-4 | 50 ohm |
IF Multicoupler
IFE Multicouplers / Distribution Amplifiers – IF
| Part Number | Frequency | Gain | Port to Port Isolation | Input VSWR | Output VSWR | Input Ports – Output Ports Per Input | Impedance |
| --- | --- | --- | --- | --- | --- | --- | --- |
| MC-16-IF-75 | 20 – 200 MHz | 0 +/- 2.0 dB | 30 dB typ | 1.75:1 | 1.5:1 Max | 1-16 | 75 ohm |
| MC-32-IF-75 | 20 – 200 MHz | 0 +/- 2.0 dB | 30 dB typ | 1.75:1 | 1.5:1 Max | 1-32 | 75 ohm |
| MC-2X16-IF-75 | 20 – 200 MHz | 0 +/- 2.0 dB | 30 dB typ | 1.75:1 | 1.5:1 Max | 2-8 | 75 ohm |
| MC-2X32-IF-75 | 20 – 200 MHz | 0 +/- 2.0 dB | 30 dB typ | 1.75:1 | 1.5:1 Max | 2-16 | 75 ohm |
| MC-4X32-IF-75 | 20 – 200 MHz | 0 +/- 2.0 dB | 30 dB typ | 1.75:1 | 1.5:1 Max | 4-8 | 75 ohm |
| MC-8X32-IF-75 | 20 – 200 MHz | 0 +/- 2.0 dB | 30 dB typ | 1.75:1 | 1.5:1 Max | 8-4 | 75 ohm |
| MC-16-IF-50 | 20 – 200 MHz | 0 +/- 2.0 dB | 30 dB typ | 1.75:1 | 1.5:1 Max | 1-16 | 50 ohm |
| MC-32-IF-50 | 20 – 200 MHz | 0 +/- 2.0 dB | 30 dB typ | 1.75:1 | 1.5:1 Max | 1-32 | 50 ohm |
| MC-2X16-IF-50 | 20 – 200 MHz | 0 +/- 2.0 dB | 30 dB typ | 1.75:1 | 1.5:1 Max | 2-8 | 50 ohm |
| MC-2X32-IF-50 | 20 – 200 MHz | 0 +/- 2.0 dB | 30 dB typ | 1.75:1 | 1.5:1 Max | 2-16 | 50 ohm |
| MC-4X32-IF-50 | 20 – 200 MHz | 0 +/- 2.0 dB | 30 dB typ | 1.75:1 | 1.5:1 Max | 4-8 | 50 ohm |
| MC-8X32-IF-50 | 20 – 200 MHz | 0 +/- 2.0 dB | 30 dB typ | 1.75:1 | 1.5:1 Max | 8-4 | 50 ohm |
HF Multicoupler
IFE Multicouplers / Distribution Amplifiers – HF
| Part Number | Frequency | Gain | Port to Port Isolation | Input VSWR | Output VSWR | Input Ports – Output Ports Per Input | Impedance |
| --- | --- | --- | --- | --- | --- | --- | --- |
| MC-16-HF-50 | .5 – 32 MHz | 0 +/- 2.0 dB | 35 dB typ | 1.5:1 | 1.5:1 Max | 1-16 | 50 ohm |
| MC-32-HF-50 | .5 – 32 MHz | 0 +/- 2.0 dB | 35 dB typ | 1.5:1 | 1.5:1 Max | 1-32 | 50 ohm |
| MC-2X16-HF-50 | .5 – 32 MHz | 0 +/- 2.0 dB | 35 dB typ | 1.5:1 | 1.5:1 Max | 2-8 | 50 ohm |
| MC-2X32-HF-50 | .5 – 32 MHz | 0 +/- 2.0 dB | 35 dB typ | 1.5:1 | 1.5:1 Max | 2-16 | 50 ohm |
| MC-4X32-HF-50 | .5 – 32 MHz | 0 +/- 2.0 dB | 35 dB typ | 1.5:1 | 1.5:1 Max | 4-8 | 50 ohm |
VHF/UHF Multicoupler
IFE Multi-Couplers / Distribution Amplifiers – VHF/UHF
| Part Number | Frequency | Gain | Port to Port Isolation | Input VSWR | Output VSWR | Input Ports – Output Ports Per Input | Impedance |
| --- | --- | --- | --- | --- | --- | --- | --- |
| MC-16-VHF/UHF-50 | 30 – 3 GHz | 0 +/- 2.0 dB | 18 dB typ | 2.0:1 | 1.8:1 Max | 1-16 | 50 ohm |
| MC-32-VHF/UHF-50 | 30 – 3 GHz | 0 +/- 2.0 dB | 18 dB typ | 2.0:1 | 1.8:1 Max | 1-32 | 50 ohm |
| MC-2C16-VHF/UHF-50 | 30 – 3 GHz | 0 +/- 2.0 dB | 18 dB typ | 2.0:1 | 1.8:1 Max | 2-8 | 50 ohm |
| MC-2X32-VHF/UHF-50 | 30 – 3 GHz | 0 +/- 2.0 dB | 18 dB typ | 2.0:1 | 1.8:1 Max | 2-16 | 50 ohm |
| MC-4X32-VHF/UHF-50 | 30 – 3 GHz | 0 +/- 2.0 dB | 18 dB typ | 2.0:1 | 1.8:1 Max | 4-8 | 50 ohm |
| MC-8X32-VHF/UHF-50 | 30 – 3 GHz | 0 +/- 2.0 dB | 18 dB typ | 2.0:1 | 1.8:1 Max | 8-4 | 50 ohm |
CrossPoint Technologies Products
I.F. Engineering Products